H.H. Abunathswami Maheshwarananda receives Bharat Gaurav Lifetime Achievement Award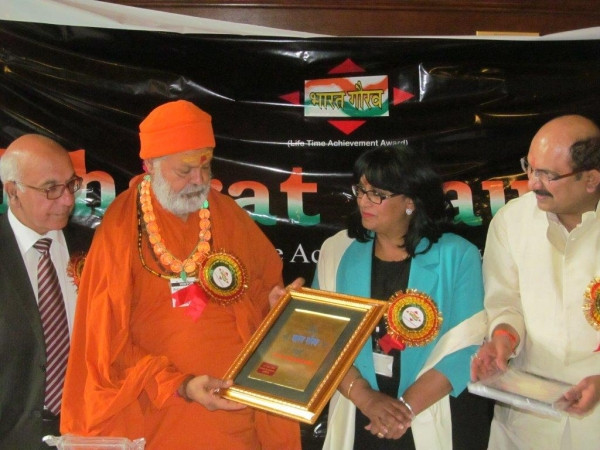 H.H. Abunathswami Paramhans Maheshwarananda, was honoured with
the prestigious Bharat Gaurav Lifetime Achievement Award
at the House of Commons, British Parliament,
London on 23 July 2014
In front of a large audience of respected dignitaries, invited guests, delegates, colleagues, and family members, His Holiness Abunathswami Vishwaguru Paramhans Maheshwarananda received the great recognition of the Bharat Gaurav Lifetime Achievement Award, at the British Houses of Parliament in London, on 23 July 2014.
HH Swamiji was part of a select group of renowned leaders of Indian origin who were recognised for their outstanding achievements. As well as spirituality and religion, the fields of philanthropy, business, law, education, health, and social activism were represented.
The ceremony was organised by Sanskriti Yuva Sanstha, the highly respected non-governmental organisation (NGO) based in Jaipur, Rajasthan, established to encourage excellence and achievement by people of Indian origin, especially today's youth and in cooperation with and recognition of Indian government.
HH Abunathswami Maheshwarananda has been merited for his long decades of humanitarian work and for being a wellspring of spiritual inspiration for many hundreds of thousands of people both in India and in many other countries all over the globe.
The organisers acknowledged the broad spectrum of activities that HH Swamiji has so far initiated as a recognised Ambassador of Peace, as well as being the founder of the Yoga in Daily Life System. They highlighted his involvement with the United Nations Economic and Social Council; and also his creation of the Sri Swami Madhavananda World Peace Council, holding regular World Peace Conferences and Inter-Faith World Peace Prayers, planting of Peace Trees, and Swamiji's ongoing "outstanding commitment to promoting tolerance and respect between different religions, cultures and nationalities."
Pandit Suresh Mishra, founding president of Sanskriti Yuva Sanstha, remarked how the success of HH Abunathswami Maheshwarananda and the other awarded guests inspired in him the revelation "that the real joy of living can be found in only one way – one's communion with the Eternal Source of knowledge, hidden within one's self."